McCutcheon Air Conditioning and Heating Blog
News and information relating to air conditioning and all things related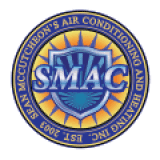 Ceiling Fans can save you money all year, but only if they're turning in the correct direction. In the winter, or whenever it gets cold enough to heat your home, adjusting the direction switch so that your fan is turning clockwise and setting the fan to a low speed will force the hot air that is trapped in the ceiling down and out towards the walls.
Beware of home warranties that claim to cover your HVAC
Don't fall for insurance companies that offer policy's that supposedly repair or replace your AC when it fails.
They never replace the system – they will just keep sending people out to patch it up and keep it barely running.
According to Angie's List, "Historically, home warranty service companies have been one of the "worst graded" categories on Angie's List. Members misunderstanding or disagreeing with what their warranties cover and the quality of repair work are cited in the majority of complaints."
---
Buying Your AC Unit online
Be careful shopping price first. That includes companies that have PRICE in the name and advertise that you can go to their website and buy products straight from them then find local people to put it in for you.
---
HVAC Companies that offer to buy your old equipment or give you a huge discount in exchange for your old equipment
Don't trust anyone contacting you out of the blue with an unbelievable offer for your existing, old unit and thousands off a new one. Reputable companies don't go around promising free services or massive discounts. After all, they're in business to make a profit. When someone makes you an unbelievable offer, you should maintain a healthy suspicion.